To differentiate ourselves in the industry, we have created the Timberlake ServicePoints – six foundational concepts that our teams follow to educate our partners about the value we bring to the homebuilding process. While there are many cabinetry companies that can manufacture cabinetry, we handle the installation volume, accuracy, and attention to detail that modern builders require. The six ServicePoints are: 
Trend Knowledge 
Design & Quote 
Manufacturing 
Measure & Order 
Deliver & Install 
Punchout & Completion 
In this third blog post, we are focused on our manufacturing process. We opened the doors to our first manufacturing plant in 1980. Today, with over 17 manufacturing plants in North America, we are 10,000+ employees strong and we manufacture tens of thousands of cabinets per day. Let's take a "tour" through our process from start to finish!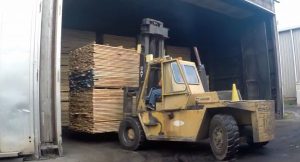 Lumber Dimensioning Mills: The manufacturing process starts with raw lumber coming through the mill. It is graded when it arrives, and then dried in kilns to the proper moisture content suitable for finished cabinetry in the home. Dried lumber is dimensioned to size in preparation for additional machining that converts it to various components. Naturally occurring defects in the lumber are also removed at this stage. All this lumber will eventually become drawer fronts, doors, frames or other features in our customer's dream kitchens and other living spaces! 
Component Machining and Assembly: Once dimensioned lumber (called chop-stock) is produced it is further machined into individual components. This involves cutting the lumber to the proper lengths, profiling, and drilling. Extra care must be taken during this stage to achieve precision, to ensure these components can eventually be assembled into various finished cabinet parts. These individual components are assembled into cabinet parts that now only lack the final finish color specified by the customer. Various fasteners, including gluing, stapling, pinning, screwing, doweling, and other woodworking techniques are used to assemble individual components into drawer fronts, doors, and face frames. These parts eventually will make up the face or front of our cabinetry, which is the most visible part of a cabinet and what truly brings a kitchen to life.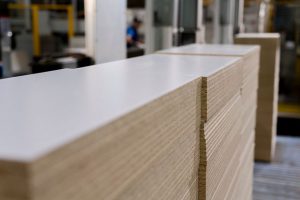 Finishing: Our unfinished cabinet components are now ready to be finished. Before finish is applied, the components must be prepped for finish. The key here is preparation, preparation, and more preparation! Components are sanded using both automated machinery in addition to the human touch with hand sanding to assure that the component will properly accept and adhere to the finish that is about to be applied. The finishing process accomplishes several things. First, for stains, finishing brings out the natural beauty and characteristics of the wood. For painted finishes, which are very popular customer selections in today's cabinet market, the goal is to achieve a consistently smooth surface with a very consistent opaque color that totally hides the substrate beneath. Finally, the finishing process adds durability to the components. The final top-coating process applies a clear coat of finish that is very durable and will stand the test of time in a home. The topcoat provides for a consistent level of shine (called sheen) on the finished part, while protecting against spills, dents, and naturally occurring humidity changes in the home. 
Flat-Stock: Now that we have the face of a cabinet ready for assembly, the components that make up of the rest of the cabinet box need to be prepped. These other components, such as side panels, tops, bottoms, shelves, and backs must be cut to size and finished. These components start as 4' x 8' boards of furniture board that are cut to size, grooved, and bored using a highly-automated manufacturing process. Plywood is used for our more premium-priced cabinetry. These components are finished using lamination, edge banding, painting, and staining depending on the construction option selected by our customers. Once finished and sized appropriately, these components are now ready to become a cabinet!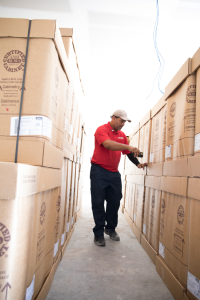 Cabinet Assembly: Prior to cabinet assembly, all required components for a cabinet are grouped as a cabinet kit. All the cabinets on a Timberlake order are grouped together during production. They are built and sequenced one order at a time. The cabinet box is assembled first, which consists of the face frame and all the components that make up the box behind the frame. The completed cabinet box then continues through the process. Doors, drawers, and other factory installed accessories, such as pull-out wastebaskets or cutlery dividers, are installed and added as ordered. Thousands upon thousands of potential combinations and sizes exist and it takes an entire team who take each part and craft together the finished cabinet. Automation and technology built into the process assure that the finished cabinet matches all the attributes ordered for a particular cabinet. Prior to packaging and shipping, a final inspection occurs to assure that the cabinet matches what was ordered, and that the cabinet is defect-free. If it does not meet our standards or is missing an option ordered by the customer, the cabinet is rebuilt or repaired and brought into specification. 
Shipping: All of the cabinets in a kitchen are loaded onto the proper truck and are now on the way to their final destination where they will be installed with other accessories to become a beautiful Timberlake kitchen, bath, or other living space. This concludes our journey from raw lumber to a finished cabinet ready to go into a newly constructed home. 
Thank you for joining us for the third installation of our ServicePoints blog series! We hope you have learned a little more about the manufacturing processes involved in bringing cabinetry installed in a new home to life. Next up, we will be featuring our Measure & Order process.